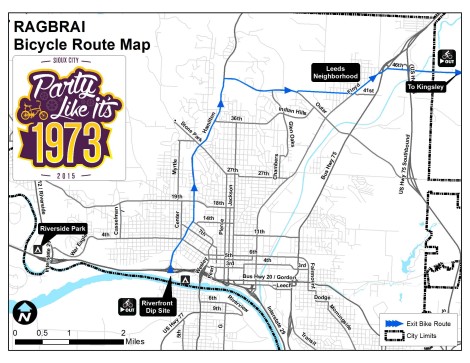 SIOUX CITY, Iowa – The route bikers will take to leave Sioux City this summer has been planned for the 43rd annual RAGBRAI event (Register's Annual Great Bike Ride Across Iowa™).
As the ride starts in Sioux City July 19, participants will start at the riverfront near the Hilton Garden Inn, and dip their rear tires in the Missouri River as a symbol to the start of the journey. Riders will dip their front tire in the Mississippi River when they reach the ending destination, Davenport, later in the week.
Once leaving the Missouri riverfront, bikers will head north on Hamilton Boulevard, riding all the way through town to Outer Drive on the far north side of Sioux City, where they will head east, connecting with 41st Street, and end up on Floyd Boulevard where participants will travel through Leeds, on their way to the next stop, Kingsley.
Leeds will be considered a pass-­through town on the RAGBRAI route, offering riders an opportunity to fuel up on their way to the next pass-through town.
Businesses and homeowners all over Sioux City will showcase their properties during the RAGBRAI event, but possibly few will be more visible than the locations featured along the official route out of town.
Business and homeowners are encouraged to cheer riders on Sunday morning, July 19, as they leave the Sioux City community.
Sioux City served as the starting location for RAGBRAI the first time the ride was held 43 years ago. RAGBRAI is the largest and oldest bike touring event in the country, and is expected to draw more than 20,000 overnight visitors to Sioux City.