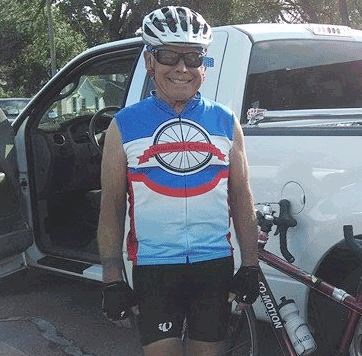 Sioux City's RAGBRAI® RIDE RIGHT committee will hold a pre-ride inspection of the official RAGBRAI route on Sunday, May 31, in honor of a local Sioux City man, Frank Brinkerhoff, who passed away on last year's RAGBRAI ride near Mason City, Iowa.
The memorial ride will be led by Frank Brinkerhoff's wife and daughter and will start at 7 a.m. at the boat ramp near the Hilton Garden Inn. The ride will end in Storm Lake, Iowa.
Transportation back from Storm Lake will be provided by the Mr. Cat's team bus. The cost will be $10 and you must RSVP by calling Dick Billings at 712-239-0319 or by emailing dick.billings@billingsco.com. The RIDE RIGHT committee conducts a pre-ride inspection of the RAGBRAI route each year to check for cracks, rough shoulders or anything else that might be dangerous to riders. Once the route has been inspected, the committee will note any potential hazards and alert the Department of Transportation to ensure any possible upgrades can be made in time for the event. This information also gets included in the Road Conditions Report that is sent to RAGBRAI.
George "Frank" Brinkerhoff was 74 when he passed away. He was an avid cyclist and enjoyed countless hours biking across the United States. Frank's passion for cycling was evident as he was the president of Siouxland Cyclists, a cycling club founded in 1982, and promoted bicycling by giving bikes to children.