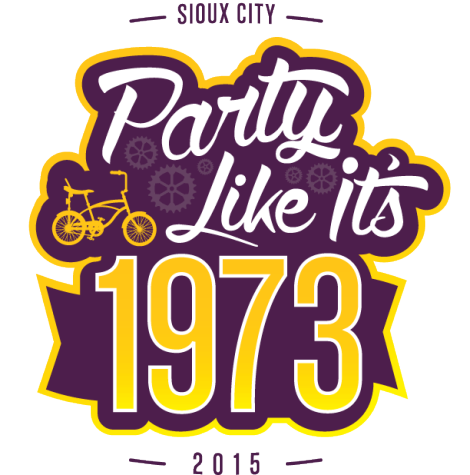 Sioux City's theme and logo have been selected for the Register's Annual Great Bicycle Ride Across Iowa.
"Party Like It's 1973" is the official Sioux City theme and will be used in numerous marketing and promotional campaigns to generate excitement and awareness about the event.
RAGBRAI is the largest and oldest bike touring event in the country. Its original tour started in Sioux City in 1973 with an estimated 300 people and with this year's event estimated to bring 20,000 people to the Sioux City area, it's bound to be a party.
The theme and logo were selected by Sioux City's Publicity Committee and the logo was created and donated by JD Gordon Creative Labs.
Equipped with a banana seat bicycle, retro feel, and encompassing the fun atmosphere of RAGBRAI, this year's logo and theme will take riders back to 1973 when songs like "Let's Get It On" and "Crocodile Rock" topped the Billboard charts, bell bottoms were all the craze, and the film, "Jesus Christ Superstar" was born.